12 Dec
Favorite Christmas song.

This is a really difficult question!  Either, "All I Want For Christmas Is You" Mariah Carey, or "Merry Christmas Baby" Hanson

Christmas song you can't stand.

Grandma Got Run Over By a Reindeer

Favorite holiday movie.

Love Actually… Mixed Nuts is a close second

Real or artificial tree?

Artificial…I am too lazy to deal with that real business

White or colored lights?

white all day every day.  Colored lights are acceptable, if it is a solid colored strand…otherwise…no.

All matching ornaments or more random personal ornaments?

Right now we are all matchy with a few random personal ornaments.  I hope to have a tree covered with personal sentimental ornaments in 15 years or so.

Favorite ornament.
Angel or star tree-topper?
Does Santa wrap presents or leave them unwrapped?

Santa wraps, but has his own wrapping paper that is not used for any other gifts.

Favorite childhood memory.

One year we spent Christmas visiting my grandparents in Oklahoma.  Us kids were all super concerned that Santa would not come to our house since we were not home.  Mom and dad assured us he would stop.  I was getting just old enough that I was starting to doubt the existence of Santa, but was not quite sure if it was made up.  We rolled up at our house at about 3am 2 days after Christmas and the 3 of us were wired and nervous to see if Santa had actually visited or not.  When we opened the front door, we were awestruck at the presents that lay before us.  I know that we have all built up how many presents were there in our heads with every retelling of the story, but it was seriously the most presents that any of us had ever seen.  Mom and dad had been with us.  They did not put these presents out, and that one day reinvigorated my belief in Santa for a few more years.  Turns out my teenage cousins had been paid to play Santa in our absence.  Well played mom and dad…well played!
There was on other memory where I got to help give my sister the gift of believing in Santa a bit longer.  She always got a Christmas bear each year (the Snowflake bears with the date).  Mom had just started that tradition with her and did not think too much when they were sold out one year.  Well, Jarrah was heartbroken that Santa had forgotten to get her a Snowflake bear.  Mom and I were able to find one the day after Christmas.  My dad grabbed a ladder and sat that bear on our roof beside our chimney.  He then came inside and asked us to come out and help him figure out what was on the roof.  My sister instantly knew that was her Snowflake bear and assumed that Santa had clumsily dropped him on the roof.  To see her excitement and her belief in the magic of Christmas, is one of my favorite memories of my childhood.

Coffee, hot chocolate, or eggnog?

coffee normally, but this time of year give me a coup of hot chocolate/cocoa

Christmas morning at home or do you travel?

We used to always have Christmas morning at my parents.  It did not feel like Christmas if I did not wake up in my childhood home.  Since having Harper, traditions have changed.  I want her to experience Christmas morning in her home.

Traditional holiday meal or something unconventional?

We usually end up with a traditional meal with mom and Tim and I will do something unconventional for us.

Personalized photo Christmas cards, store bought cards, e-cards, or "ain't nobody got time for that"?

I am terrible at correspondence…that includes e-cards.  I have the best intentions, but terrible follow through.  I manage a personalized photo card every couple of years.  I am trying to get better now that we have Harper.
Now to play along with my Holly and Jake's link-up!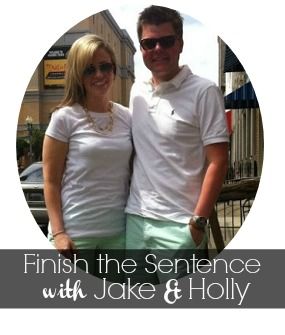 1. My favorite Christmas was…. see my answer above.
2. The worst Christmas I had…included a family fight and Tim losing his wallet in a 4-wheeling incident that took place on 32 snow covered acres of land…good luck finding that crap.
3. That one gift that made me scratch my head and say, "Hmmmm" was…I have received some "interesting" movies as gifts.  I don't remember the titles, but I recall receiving a Sylvester Stallone action film and I questioned if that was meant for Tim…I was assured that gift was selected just for me…um okay.
4. One year I….threw a hissy fit because my grandma wanted to come to my parents house on Christmas Eve and spend the night.  She was never around for anything when we were kids and my parents cultivated our tradition of our immediate family only on Christmas morning.  I was in my 20′s, I was married, and I threw a fit like a 2 year old because after all this time, she wanted to waltz in and crash Christmas.  I said if she came, then I would not.  Not my proudest moment as I am usually a high road travelling people pleaser.
5. I think the worst gift to give is….Jewelry unless you really know the person's taste in jewelry, you can bet that will get stuck in a jewelry box and never worn.
6. At Christmastime I typically….get really really happy.  As stressful as it all is, I love this time of year.
7. Typically, family Christmas….is pretty fun.  We have had our Springer moments, but kids have mellowed us all out for the most part and we really have a great time.
8. If I could change one thing about the Holiday season….it would be that it does not fall at my busiest time at work.  I have to take off more time in November and December to visit family, than I do any other time of the year, and end of the year in the billing office of a medical practice is like trying to get ready for a space launch.
9. It is so hard to buy for….my dad…TV, hunting, Dr. Peppers and cigarettes pretty much encompass my dad's likes/hobbies.  He always throws a fit when we get him something, but of course we do every single year.  It is a tradition to listen to him bitch about us wasting our hard earned money on him.
10. My favorite Christmas tradition is…watching Christmas movies…over and over and over again!
11. Santa, baby, bring me a ….winning Powerball ticket.